Security
Forage Dynami-Tech is a company specialized in urban construction. For 10 years, we carry out almost 50 blasts per day, only in the region of Quebec. Last year, 3750 blasts were carried out mostly in the city.
Our blasters are working every day alongside existing buildings and residences.
Whatever the situation, the blasting procedure is strictly observed. First, before giving the order for the ignition, the blaster will ensure that the guards are at their posts and that all people, employees and citizens, are outside the scope of security determined by the blaster. The area must be cleared before the first signal and stays cleared until the signal of resumption of work is made.
Blasting procedures are always the same for all circumstances. These are the steps used when working with explosives:
Immediately before the blast, 12 short alarm blows with one second intervals
30 seconds must pass between the last alarm and the time of firing
EXPLOSION
Following the blast there will be an examination of the site, when the blast area is safe, the horn will blow continuously to announce permission for the employers to return to work.
A sign indicating these steps can be found at every access to the construction zone.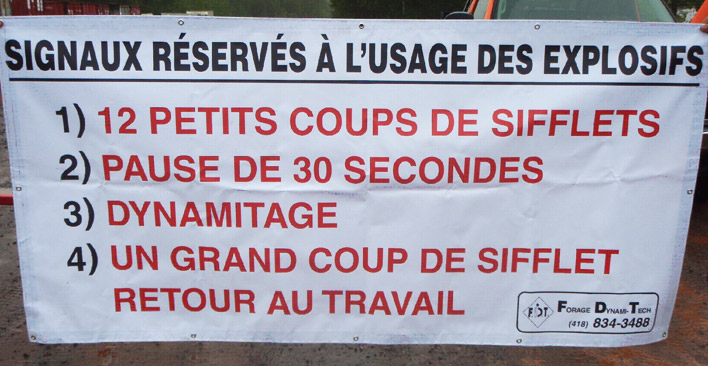 Loading is always under the supervision of a blaster. This ensures that loads are placed properly and that the quantities are calculated and observed.
A major security risk with blasting in urban areas is the projection of stones because of the energy released. That is why these blasts are always accompanied by mattresses made of recycled tires designed for this purpose. The consistent strength and weight of these mattresses manages to prevent projections of stones. There are 160 mattresses available to our teams.
The use of seismographs is essential in the city. All our blasts are recorded and documented using a blasting logbook in order to follow up and make the necessary corrections regarding our methods. The blaster will ensure that the explosion does not generate seismic waves above the norm. According to the Specifications and General Work, Art 11.4.4.1.2; all blasting within 100m of a building, a business, a concrete structure or a well must be registered with a seismograph.
Choosing Forage Dynami-Tech to carry out your blasting is a secure choice for safety and timeliness. Regulations regarding explosives is complex and strict. We take full responsibility for our actions and our expertise is one of the best in urban areas in Quebec.